About How Tom Works with Wood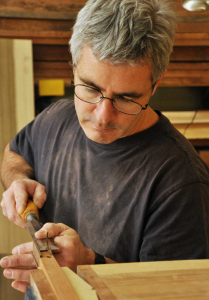 I have always been passionate about designing and building.   I was the kid on the block to visit if you wanted a tree house or a bike fixed.   During my freshman year in college, while pursuing an Engineering degree, I became serious about building furniture.  After almost 20 years working as a Mechanical Engineer, I have finally decided to pursue my dream and build furniture full time.
I understand that clients have a specific reason for needing custom furniture.  One client wanted to use walnut which was harvested from a family farm to create heirlooms for their children.  Another client had a closet in their home which they wanted to convert to a built-in.  My wife wanted to replace our generic fireplace mantle with a more stylish design.  Whatever your reason I want to help design and create a quality piece that you will be proud to display for years.  The portfolio portion of the website contains pictures of previous projects which showcase traditional furniture construction such as hand cut dovetails, mortise and tenon joinery, and use of figured veneers.  Please check back often to see what's new in the shop.
If you are interested in learning, I teach a hoppered dovetail class and a saw making class at The Woodwright's School in Pittsboro.